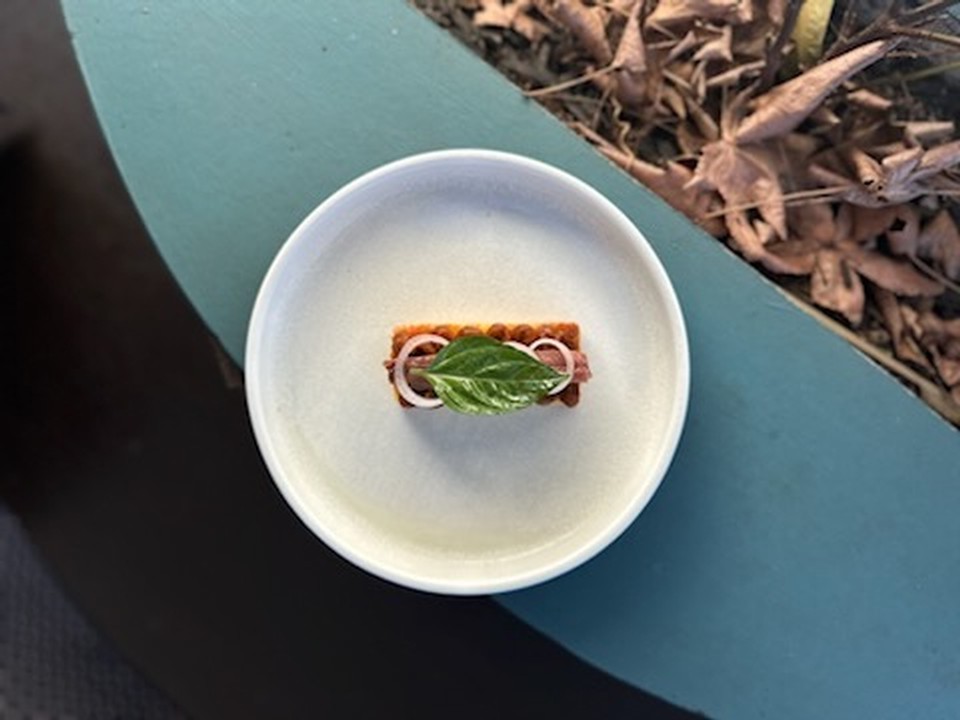 To help us celebrate International Barbera Day, our friends at Bar Lune have shared the recipe for their delicious Anchovy Soldier with Smoked Tomato Purée and Pickled Shallot. The salty, smokey combination of Ortiz anchovies and smoked tomato purée on crisp brioche make for a mouthwatering pairing with our 2021 The Other Wine Co. Barbera.
Anchovy Soldier, Smoked Tomato, Pickled Shallot
Ingredients
Ortiz anchovies
Toasted brioche (or other bread of choice)
Smoked tomato purée (see below)
Pickled shallot (see below)
1 tsp chopped capers
1 tsp chopped kalamata olives
Basil
For the Smoked Tomato Purée
1 kg Roma tomatoes
¼ cup olive oil
4 garlic cloves chopped
1 bunch basil
salt and pepper
Preheat your smoker to 95c, electric is best.
To get tomatoes ready for smoking. Cut in half, you want to keep them at a golf ball size to maintain a greater surface area for the smoke to penetrate.
Marinate the tomatoes in the olive oil, salt, pepper, garlic and place in a tray, add the bunch of basil. Use a tray to keep all the juices. (this will be used later).
Place the tomatoes in the preheated smoker carefully.
Smoke tomatoes for 1 hour until they have softened and taken on a lovely smoked flavour.
Remove from smoker and allow to cool.
Once cool remove skins, place in food processor and blitz until smooth. Use reserved juice from tray to adjust consistency.
For the Soused Shallot
1 Shallot, thinly sliced
4 tbsp red wine vinegar
Pinch of sugar
Place sugar and vinegar in a bowl and mix until sugar is dissolved. Add shallots to mixture and allow to stand for few mins for vinegar to penetrate shallots.
To Assemble
Spread or pipe the smoked tomato purée onto toasted brioche or any other toasted bread of your choice.
Place the anchovy on top of the tomato, followed by a sprinkle of capers and olives then the soused shallot.
Finish by placing a basil leaf on top.
Best served at room temperature with good friends, and a glass (or two!) of The Other Wine Co. Barbera.